Grime 68000 - porting a z80 game for 5 different 68000 Systems in 7 Days!
Grime is an old DOS game I used to have on my PC XT... it was a simple little text game, that was a lot of fun!

Grime was written by Mark Elendt... as far as I remember I got it from an old magazine coverdisk...

currently Grime is 'abandonware'... no one seems to really remember it, and it's trickyto get working on a modern pc, as it runs too fast!!.. you can get the orignal here

At the start of July 2018, I started a 7 day programming project to recreate 'Grime' as a Z80 based game... I chose it because it's fun and simple, and this gave me a good opportinity... I wasn't just going to remake Grime... I was going to make it work on 11 different systems!

I remade grime as 'Grime Z80' which uses one piece of logic code that plays on 11 different Z80 systems... namely: Amstrad CPC, ZX Spectrum,MSX1, MSX2, Enterprise, Sam Coupe, TI-83 calculator, Gameboy, Gameboy Color, Sega Mastersystem and Sega Gamegear!

But why stop there... I now had a simple game 'template' which could be extended for something new... why just limit it to the Z80? so in December 2018 I started the project again... this time as Grime 68000



Now the game, source and videos are available to all, so what are you waiting for... download Grime68000 now, and check it out!

Download Grime 68000



Disclaimer:


Grime 68000 was a quick programming experiment, not a commercial quality game, it has NOT been tested on real hadware, and may not work.
It was produced as an educational challenge during my week off, and I do not intend to spend any more time on it... if it does not work on your hardware, you can concider it 'homework' to fix the bugs!

Watch the Grime 68000 videos!
0. The 14 days of Grime-Mass
1.Tiles for all!
2.Scrolling message working!
3.Something is moving!
4.The Trouble with Tilemaps!
5.Mostly Playable!
6. Now with added Vblank!
7.Done and Dusted!
8. Code overview



Grime 68000... on (almost) every 68000 system you could imagine!

| | | |
| --- | --- | --- |
| X68000 | Genesis | Sinclair QL |
| | | |
| | | |
Buy my Assembly programming book
on Amazon in Print or Kindle!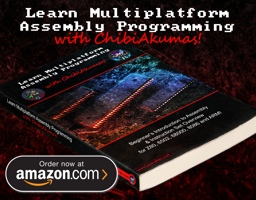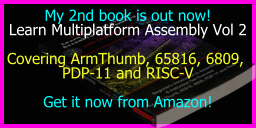 Available worldwide!
Search 'ChibiAkumas' on
your local Amazon website!

Click here for more info!